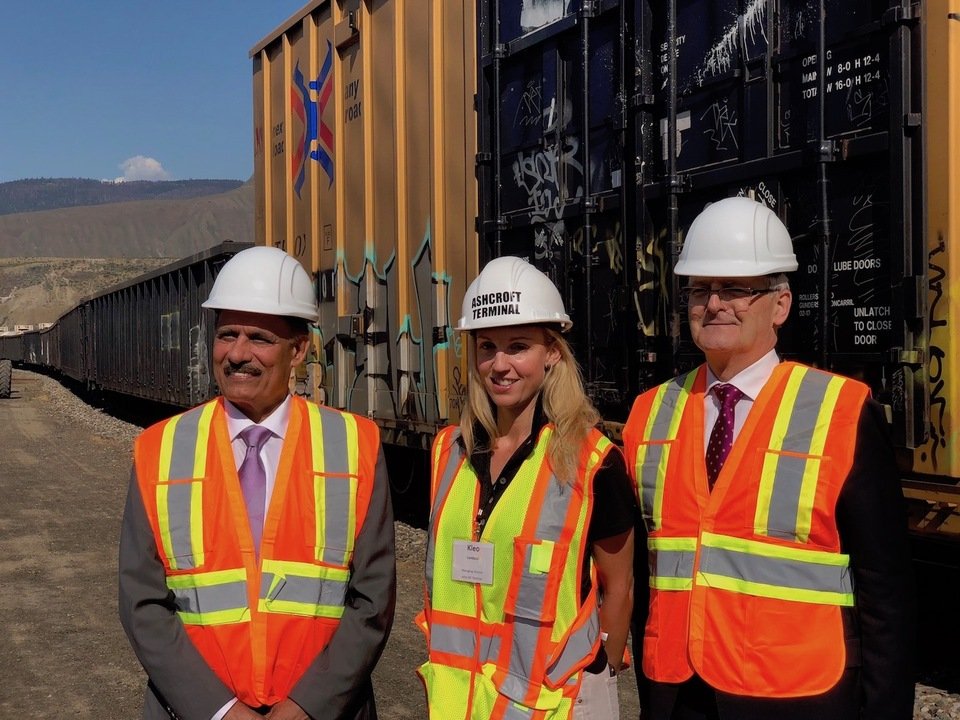 Minister Marc Garneau announces $9.2 million NTCF contribution for a critical trade enabling expansion at Ashcroft Terminal for a total project of over $28 million
Published originally in a Government of Canada News Release on May 16, 2018 Written by Transport Canada
The quality of Canada's transportation infrastructure and the efficiency of the country's trade corridors are key to the success of Canadian firms in the global marketplace. The Government of Canada supports infrastructure projects that create quality middle-class jobs and boost economic growth.
Today, the Honourable Marc Garneau, Minister of Transport, announced a major investment of $9.2 million for a project at Ashcroft Terminal that will help local businesses compete by moving local goods to market and by making improvements to terminal infrastructure.
This project is broken into several areas. In one area, a new rail link will be built from Ashcroft Terminal to Canadian National Railway's main rail line. This expansion will provide producers and shippers additional options at Ashcroft Terminal to improve efficiency in shipping their goods to market.
In another area, extra rail track will be built to allow rail cars to be parked and assembled into longer trains to serve Canadian producers and shippers. The additional track infrastructure will support the movement and storage of rail cars to enhance fluidity through Canada's Pacific Gateway Corridor.
An internal road network will be built that includes a two-way road under the rail line. This grade separation will ensure that rail and truck operations do not interfere with each other thereby increasing safety. This grade separation will also increase the operational efficiency of Ashcroft Terminal. The construction of a multi-commodity and storage warehouse will support natural resource producers, allowing them improved access to domestic and international markets.
Other works will include increasing electrical capacity, installing water treatment infrastructure, and installing lighting and security enhancements to provide safe and secure operations.  The project is expected to have significant economic and employment benefits by creating over 250 jobs during construction.
The Government of Canada is supporting infrastructure projects that contribute most to Canada's continued success in international trade.  For example, projects being funded will:
support economic activity and the physical movement of goods or people in Canada;
help the transportation system withstand the effects of climate change and make sure it is able to support new technologies and innovation;
address transportation bottlenecks and congestion along Canada's trade corridors; and
increase the fluidity of Canadian trade around the world through our ports, airports, roads, railways, intermodal facilities, bridges and border crossings.
Provincial, territorial and municipal governments, Indigenous groups, not-for-profit and for-profit private-sector organizations, federal Crown Corporations, Canadian Port Authorities, and National Airport System Airport Authorities are all eligible for funding under the National Trade Corridors Fund.
Quotes
"Our government is investing in Canada's economy by making improvements to our trade and transportation corridors. We are supporting projects that will efficiently move commercial goods to market and people to their destinations, stimulate economic growth, create quality middle-class jobs, and ensure that Canada's transportation networks remain competitive and efficient."

The Honourable Marc Garneau
Minister of Transport
"Transportation and distribution of goods are a vital part of our local, regional and national economies. The investment announced here today will make our transportation system stronger by addressing urgent capacity constraints at the Port of Vancouver and fostering long-term prosperity for our community."

Jati Sidhu
Member of Parliament for Mission — Matsqui — Fraser Canyon
Quick facts
Transportation is an important element of Canada's trade with other countries. In 2017, total international merchandise trade amounted to $1.1 trillion. The United States continued to be Canada's top trade partner, with $703 billion in trade ($415 billion exported, $288 billion imported), accounting for 63.5 per cent of total Canadian trade in 2017.

The Government of Canada places a strong emphasis on exports because of the connection between trade and good, well-paying jobs, as industries that are export-intensive pay wages that are, on average, more than 50 per cent higher than industries that are not.