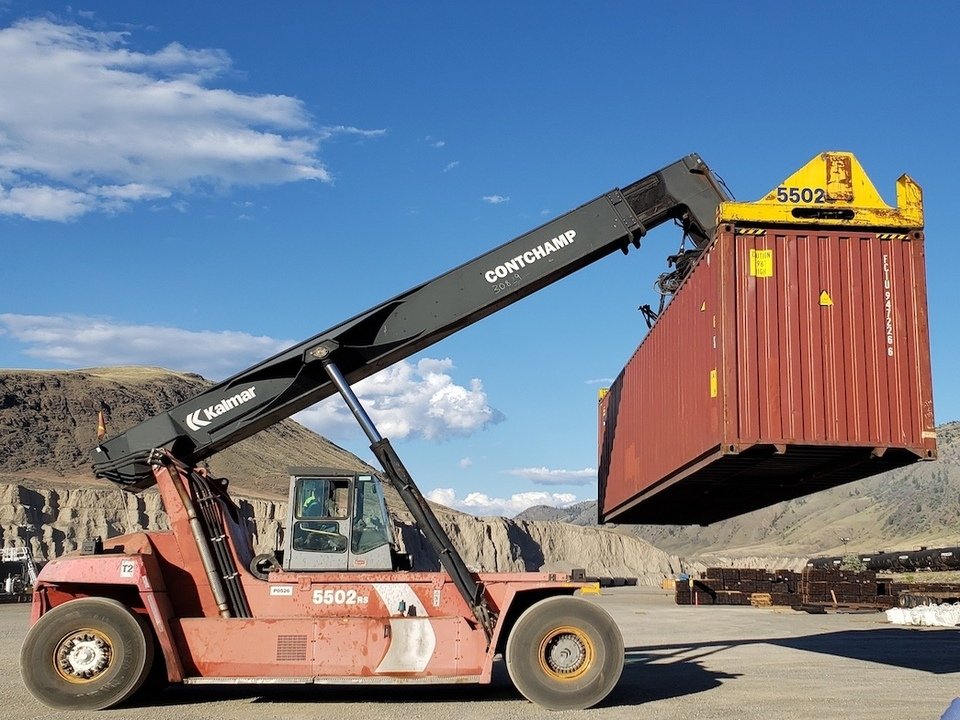 Inland port near Vancouver aims to begin container transload service
Originally published at Joc.com.
VANCOUVER, British Columbia — With transloading capacity scarce in Vancouver, an inland port 200 miles away aims to give forestry exporters the consistency in stuffing their products into containers they might not find in the greater Vancouver area.
Starting in the second quarter, forest product shippers will be able to transload goods into containers at Ashcroft Terminals, a privately-owned 320-acre inland port situated at the intersection of the Canadian Pacific Railway and Canadian National Railway before the lines converge into a single line to Vancouver. Ashcroft Terminals, an already busy transloading hub for commodities into rail carloads, is about five miles from Highway 1, the B.C. part of the Trans-Canada Highway.
Canaan Group, the logistics provider contracted by the inland port to handle transloading, plans to load roughly 200 to 300 40-foot containers weekly on an intermodal train heading to Canada's largest container port, Patrick Lo, president and CEO of Canaan Group, told JOC.com at the Cargo Logistics Canada Conference in Vancouver.
Canaan's forest product customers will use the new service but its backers also want to attract those who normally truck their goods to Port Metro Vancouver.
"With a lot of the congestion happening here in Lower Mainland, a lot of our customers are looking for alternative solutions," Lo said, referring to the Vancouver area. "My growth has been limited because of the cost of industrial land" in the Vancouver metro area.
The tight margins of forestry product and agriculture exports make any increases in industrial land values even sharper for shippers and the logistics providers they depend on. Industrial real estate costs rose about 2.7 percent to C$10.31 per square foot in the fourth quarter compared to the same period in 2013, according to a Colliers International report. The global real estate firm estimates the cost to buy and build industrial space in the Vancouver area has increased between 18 percent and 26 percent between 2012 and 2014.
Of the roughly 28,000 acres of industrial land in the Vancouver area, only between 1,000 and 1,200 acres are vacant and suitable for logistics and distribution, Greg Yeomans, manager of planning at Port Metro Vancouver, said a conference panel. With Port Metro Vancouver container traffic growing roughly 5 percent annually to service the hinterland and a rising local population, some expect the vacant logistics industrial space to be exhausted within as few as eight years.
Lo said one of the two freight railroads providing intermodal rail service on the line to Vancouver has made a written commitment to provide weekly intermodal service if Canaan can provide roughly 250 to 300 containers weekly. He wouldn't yet disclose whether the railroad was CP or CN.
Canaan, one of Canada's largest privately-owned logistics companies, aims to load roughly 600 40-foot containers on a weekly basis in 2016 at Ashcroft Terminals and eventually transload specialty grain into 20-foot containers. Lo said his company is spending about C$1.5 million to gain container transloading capabilities at the site. Ashcroft Terminal placed one mile of track for container transloading late last year, Bob Landucci, president and CEO of the inland port, told JOC.com.
Lo and Landucci both likened the new container transloading capability to what is provided in Greer, South Carolina. Since opening roughly a year ago, the inland port has seen increased demand for the Norfolk Southern Railway intermodal services connecting the manufacturing hub to the Port of Charleston.