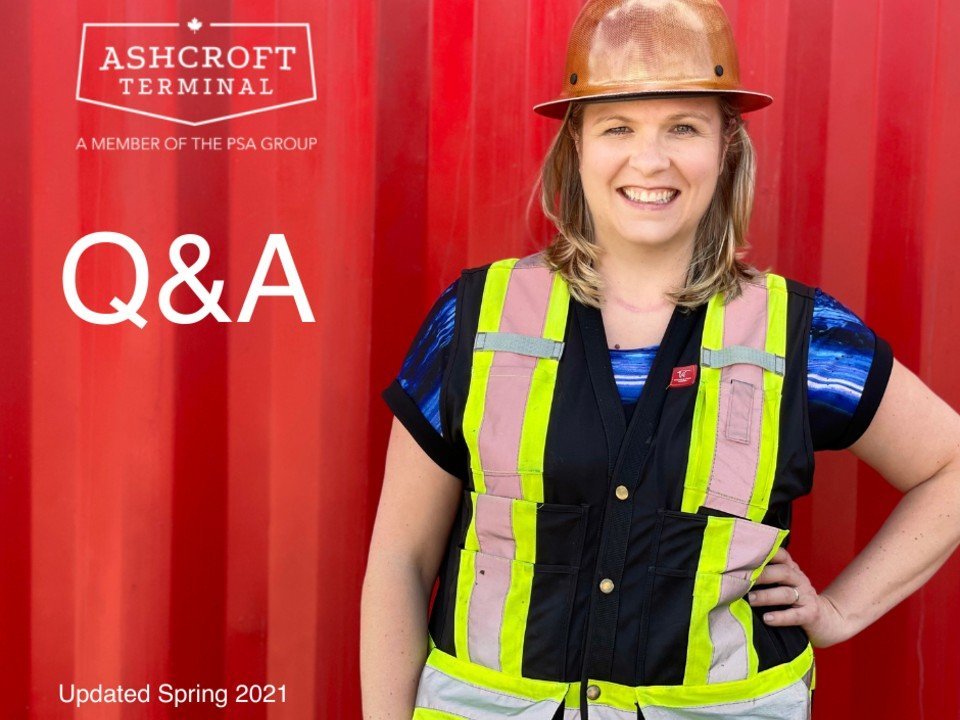 1). WHAT IS ASHCROFT TERMINAL?
Ashcroft Terminal is a privately owned inland rail terminal strategically located to service exporters, shippers, manufacturers and producers and prepare their commodities for export or import.
2). WHERE IS ASHCROFT TERMINAL?
Ashcroft Terminal is located at 1000 Evans Road in the Village of Ashcroft, British Columbia, Canada.
3). WHAT HAPPENS AT ASHCROFT TERMINAL?
Ashcroft Terminal provides transloading, intermodal, railcar and bulk materials storage, and value-added services such as warehousing and logistics.
4). I'VE HEARD THAT ASHCROFT TERMINAL IS EXPANDING – WHAT DOES THE INFRASTRUCTURE EXPANSION INCLUDE?
Ashcroft Terminal has been expanding track and other infrastructure to service exporters and importers for more than fifteen years. Our most recent infrastructure expansion includes the following components:
CN Rail mainline connection
Staging & marshalling rail infrastructure
Grade separation
Utility enhancements
Multi-commodity transload & storage warehouse
Ashcroft Terminal follows the federal, provincial and local regulations under which it is required to obtain permits and various approvals as it expands for everything from; operating, construction, environmental, archeology, etc. 
5). HOW MANY EMPLOYEES WORK AT ASHCROFT TERMINAL?
Currently 68 full-time employees and over 100 contractors work at Ashcroft Terminal.  This makes Ashcroft Terminal one of the largest employers within the Village of Ashcroft.
6). WORKING WITH OUR LOCAL FIRST NATIONS
Our Ashcroft Terminal team currently includes full time employees from various First Nations including the local Bonaparte Indian Band and Skeetchestn Indian Band. In addition to full time staff, many contractors working on the terminal expansion are from local First Nations including Ashcroft Indian Band, Bonaparte, Kamloops and Skeetchestn.
The Ashcroft Terminal archeology team also regularly employs Bonaparte and Ashcroft Indian Band contractors for fieldwork. Between 2018 and 2020, 23 Ashcroft and Bonaparte fieldworkers contributed 1,080 person-days to these efforts.           
7). IS ASHCROFT TERMINAL AN INCLUSIVE WORKPLACE?
An inclusive and diverse workplace is critical and fundamental to who we are.  Having a workforce from a variety of backgrounds adds strength and resiliency to our team and overall operations.
Ashcroft Terminal full time / permanent roles are made up of:
Over 30% of our workforce is female and growing!
Currently 11% of our team identify as First Nations.
We are excited about increasing the diversity of our team as we grow and expand our workforce.
8). DOES ASHCROFT TERMINAL GIVE BACK TO THE COMMUNITY?
As we have grown the business, this allows us to give back to our community. This includes regular donations to a variety of programs and organizations, some of which include:
Regular sponsorship of Soups On, a community connections program that provides free meals every Friday
Donation of a bursary for graduating Desert Sands Community School students pursuing post-secondary education in the skilled trades
Donations of personal protective equipment (masks, gloves and hand sanitizer) to:

Thompson View Manor Lodge & Assisted Living Centre
The Cache Creek Emergency Support Services Center

Donations of material (over 250 truckloads) for river shoring to Bonaparte Indian Band, valued at over $87,500
Donations through local campaigns such as Toys for Joys, the Smile Cookie Campaign and the Christmas Hamper Drive to:

Ashcroft & District Lions Club
Elizabeth Fry Society
Ashcroft & Area Community Resources Society
Ashcroft Terminal is a proud community supporter and we look forward to continuing to work with key community members to support and help where we can.
9). IS ASHCROFT TERMINAL HIRING?
All of our job postings are listed on our website and shared through social media. Please check our website regularly to see job postings.
Our priority is hiring local. We always look first for candidates from the communities of Ashcroft, Cache Creek, Bonaparte Indian Band and Ashcroft Indian Band.
www.ashcroftterminal.com/about/careers
www.facebook.com/ashcroftterminal
MORE QUESTIONS?
We want to hear from you! We are always available to chat or meet with anyone in the community who's wondering what we're up to and where we're going. If you have any questions, don't hesitate to reach out and give us a call, we'd love to talk!
 
 

Shannon Porter

Terminal & Community Relations Coordinator

(250) 457-3915

Patty Kinvig

Assistant Terminal Manager

(250) 571-6990