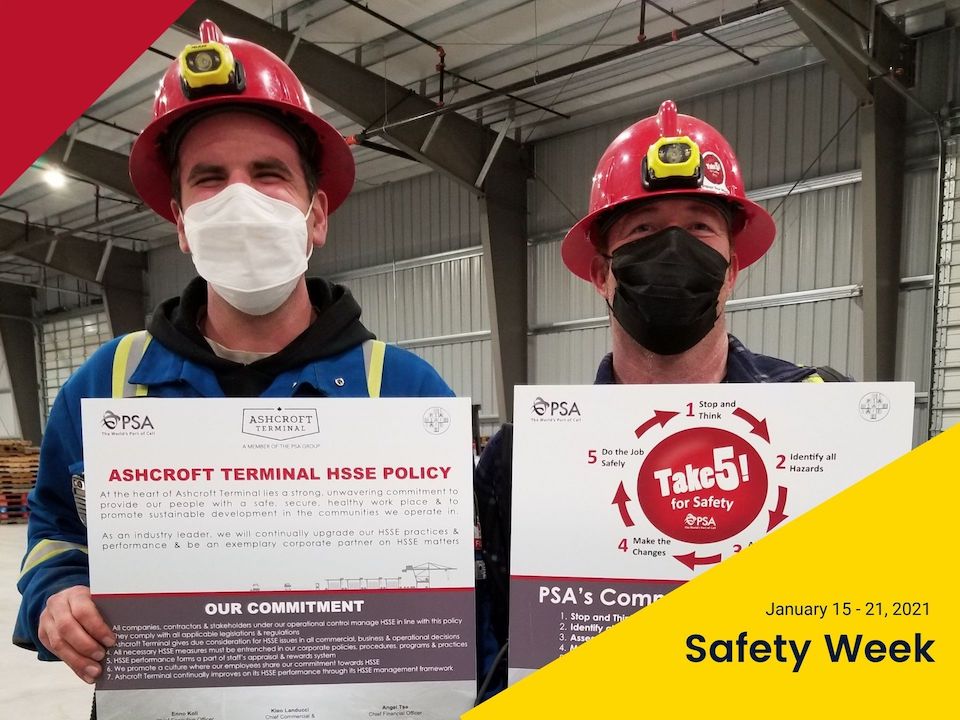 Ashcroft Terminal Celebrates Safety Week
From January 15 – 22, we joined our 38,000 PSA Colleagues around the world to celebrate safety week. This annual event allows us to set the tone for the year ahead by promoting a strong safety culture and ensuring our team has a safe, secure and healthy place to work.
This year's theme was "Valuing Lives" and crews participated in a variety of activities throughout the week. Highlights included a symbolic signing of our HSSE Policy, safety trivia, toolbox talks and a special address from PSA Group CEO, Tan Chong Meng and Regional CEO, David Yang.
Take 5 for Safety:
If you visit the Terminal, you will likely hear the expression "Take 5". Take 5 is our daily safety mantra and an important reminder of the need to slow down and think through every task. Whether crews are operating heavy machinery or administrative staff are working at a desk, we all Take 5 for safety. What does Take 5 mean at Ashcroft Terminal?
1). Stop and think through each task before commencing
2). Identify all hazards in the work area and surroundings
3). Assess the risks
4). Make the necessary changes to control the risks
5). Do the task safety